Storage container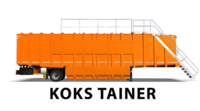 The KOKS Tainer is a mobile container that is used for (temporarily) storing liquids and hazardous subst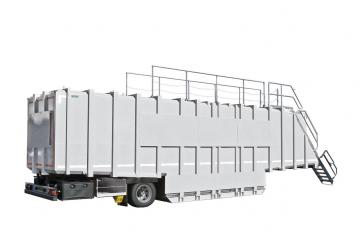 ances such as oils, chemicals, acids, coolant, waste water and liquid waste.
The KOKS Tainer has been designed to offer as large a container compartment as possible and incorporates the minimum amount of segments, panels and welds. The container areas where the floor and roof join the side walls are angled. The main advantage of this design is that it minimises the risk of leakage, eliminates inaccessible nooks and crannies, prevents cracks forming in the coating and contributes to container stiffness. The KOKS Tainer is constructed in accordance with all applicable safety standards.
The KOKS Tainer offers maximum flexibility and greater on-site storage capacity. As a
result, a vacuum truck can be deployed more efficiently. For the user, the KOKS Tainer is an innovative and cost-effective solution when a (temporary) storage facility for (hazardous) (fluid) substances is required.
Benefits
• Maximum flexibility and mobility.
• Suitable for a large variety of (hazardous) (fluid) substances.
• Optimum safety.
• Very efficient due to thoughtfull design with a capacity of approx. 86,000 litres and the small footprint.
• Easy to clean and maintain.
• High quality, long service life and economical purchase price.
Usage
With its large volume on a small footprint, the KOKS Tainer is the most efficient and safe solution for (temporary) onsite storage of liquids and hazardous substances. This mobile storage container is ideal for use in emergencies, cleaning and maintenance projects in refineries, (petro)chemical factories and power plants.

Documentation: