Products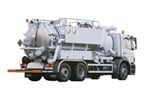 The KOKS EcoVac pressure/vacuum truck is designed for (heavy) industrial applications and is suitable for suctioning, discharging and transporting fluid and hazardous substances, such as liquids, sludge, fats, oils, fuels and chemicals. Specially developed for working with hazardous and contaminated substances, the truck is available in PED or ADR (Ceoc)/ATEX (Ex) versions and built in accordance with all applicable safety standards. Click here for extensive product information on the KOKS EcoVac pressure/vacuum truck. Click here to download the product flyer PDF.
For more information about the Ecovac: Tel. +31(0)72 540 6699 / [email protected]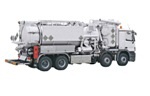 The KOKS EcoVac RDR pressure/vacuum truck with scrubber is designed for (heavy) industrial applications and is suitable for suctioning, discharging and transporting fluid and hazardous substances, such as liquids, sludge, fats, oils, fuels and chemicals. Specially developed for working with hazardous and contaminated substances, the truck is available in PED or ADR (Ceoc)/ATEX (Ex) versions and built in accordance with all applicable safety standards. Click here for extensive product information on the KOKS EcoVac RDR pressure/vacuum truck. Click here to download the product flyer PDF.
For more information about the Ecovac RDR: Tel. +31(0)72 540 6699 / [email protected]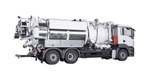 The KOKS EcoVac Combi vacuum/jetting truck is designed for multifunctional applications and is suitable for (heavy) industrial cleaning and sewer cleaning. Specially developed for suctioning, discharging and transporting hazardous, fluid and contaminated substances, the truck is available in PED or ADR (Ceoc)/ATEX (Ex) versions and built in accordance with all applicable safety standards. Click here for extensive product information on the KOKS EcoVac Combi vacuum/jetting truck. Click here to download the product flyer PDF.
For more information about the Ecovac Combi: Tel. +31(0)72 540 6699 / [email protected]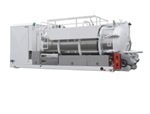 The KOKS EcoVac Loader self-supporting vacuum unit, without a chassis and powered by an industrial diesel engine, is designed for (heavy) industrial applications and is suitable for suctioning, discharging and transporting fluid and hazardous substances, such as liquids, sludge, fats, oils, fuels and chemicals. Specially developed for working with hazardous and contaminated substances, the unit is available in PED or ADR (Ceoc) versions and built in accordance with all applicable safety standards. Click here for extensive product information on the KOKS EcoVac Loader self-supporting vacuum unit. Click here to download the product flyer PDF.
For more information about the Ecovac Loader: Tel. +31(0)72 540 6699 / [email protected]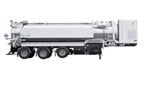 The KOKS EcoVac Trailer stand-alone vacuum trailer, equipped with a heavy duty industrial diesel engine, is designed for (heavy) industrial applications and suitable for suctioning, transporting and discharging fluid and substances, such as liquids, sludge, fats, oils, fuels and chemicals. Specially developed for working with hazardous and contaminated substances, the trailer is available in PED or ADR (Ceoc)/ATEX (Ex) versions and built in accordance with all applicable safety standards. Click here for extensive product information on the KOKS EcoVac Trailer stand-alone vacuum trailer. Click here to download the product flyer PDF.
For more information about the Ecovac Trailer: Tel. +31(0)72 540 6699 / [email protected]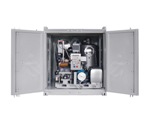 The KOKS EcoVac Container self-supporting vacuum unit, without a chassis and powered by an industrial diesel engine, is designed for (heavy) industrial applications and offshore work and is suitable for suctioning fluid and hazardous substances, such as liquids, sludge, fats, oils, fuels and chemicals. Specially developed for working with hazardous and contaminated substances, the unit is available as a PED version and built in accordance with all applicable safety standards. Click here for extensive product information on the KOKS EcoVac Container self-supporting vacuum unit. Click here to download the product flyer PDF.
For more information about the Ecovac Container: Tel. +31(0)72 540 6699 / [email protected]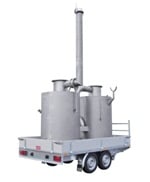 The KOKS mobile scrubber 4000, also referred to as a return vapour cleaner, may be connected to the vacuum pump exhaust connection of a vacuum/tank truck. The scrubber cleans, in 10-phases*, vapours/gases from the vacuum pump exhaust which are released when suctioning products using vacuum technology.
During suction and discharge activities, the vapours/gases are cleaned using the two washing tanks connected in series and a 10-phase* scrubbing process to produce a return vapour that is legally acceptable for both people and the environment. Click here for extensive product information on the KOKS mobile scrubber 4000. Click here to download the product flyer PDF.
For more information about the Mobile scrubber 4000: Tel. +31(0)72 540 6699 / [email protected]

* 10 wasfasen alleen mogelijk in combinatie met een van de extra opties.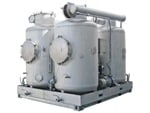 The KOKS mobile scrubber 8000, also referred to as a return vapour cleaner, may be connected to the vacuum pump exhaust connection of a vacuum/tank truck. The scrubber cleans, in 2 x 10-phases*, vapours/gases from the vacuum pump exhaust which are released when suctioning products using vacuum technology. During suction and discharge activities, the vapours/gases are cleaned using the two washing tanks connected in parallel and a 2 x 10-phase* scrubbing process to produce a return vapour that is legally acceptable for both people and the environment. Click here for extensive product information on the KOKS mobile scrubber 8000. Click here to download the product flyer PDF.
For more information about the Mobile scrubber 8000: Tel. +31(0)72 540 6699 / [email protected]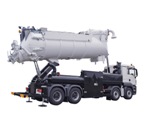 The KOKS MegaVac air displacement system is designed for heavy industrial applications and is suitable for suctioning, displacing, transporting and unloading of dry, wet and hazardous substances, such as various types of catalyst, (roof) gravel, powders, fly ash and sludge. Specially developed for working with hazardous and contaminated substances, the system is available in PED or ADR (Ceoc)/ATEX (Ex) (pump system) versions and built in accordance with all applicable safety standards. Click here for extensive product information on the KOKS MegaVac air displacement system. Click here to download the product flyer PDF.
For more information about the Megavac: Tel. +31(0)72 540 6699 / [email protected]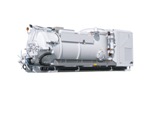 The KOKS MegaVac Loader self-supporting air displacement unit, without chassis and powered by an industrial diesel engine, is designed for (heavy) industrial applications and is suitable for suctioning and displacing dry, wet and hazardous substances, such as various types of catalyst, (roof) gravel, powders, fly ash and sludge. The KOKS MegaVac Loader can also unload into big bags. Specially developed for working with hazardous and contaminated substances, the unit is available in PED or ADR (Ceoc) versions and built in accordance with all applicable safety standards. Click here for extensive product information on the KOKS MegaVac Loader self-supporting air displacement unit. Click here to download the product flyer PDF.
For more information about the Megavac Loader: Tel. +31(0)72 540 6699 / [email protected]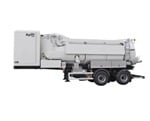 The KOKS MegaVac Trailer self-supporting air displacement trailer with a large tank volume is designed for (heavy) industrial applications and is suitable for suctioning, displacing and transporting large quantities of dry, wet and hazardous substances, such as various types of catalyst, (roof) gravel, powders, fly ash and sludge. Specially developed for working with hazardous and contaminated substances, the trailer is available in PED or ADR (Ceoc) versions and built in accordance with all applicable safety standards. Click here for extensive product information on the KOKS MegaVac Trailer self-supporting air displacement trailer. Click here to download the product flyer PDF.
For more information about the Megavac Trailer: Tel. +31(0)72 540 6699 / [email protected]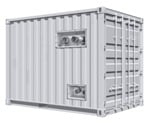 The KOKS MegaVac Container self-supporting vacuum unit, without chassis and powered by an industrial diesel engine, is designed for (heavy) industrial applications and is suitable for suctioning dry, wet and hazardous substances, such as various types of catalyst, chemical liquids, (roof) gravel, powders, fly ash and sludge. Specially developed for working with hazardous and contaminated (liquid) substances, the unit is built in accordance with all applicable safety standards. Click here for extensive product information on the KOKS MegaVac Container self-supporting vacuum unit. Click here to download the product flyer PDF.
For more information about the Megavac Container: Tel. +31(0)72 540 6699 / [email protected]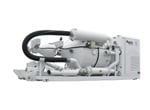 The KOKS MegaVac Cyclone Loader self-supporting vacuum, storage and bag metering unit can be used without a chassis for suctioning, storing and bagging dry materials, such as powders, ceramics, asbestos fibres and other contaminated and/or hazardous substances. Specially developed for working with hazardous and contaminated substances, the unit is available in PED or ADR (Ceoc) versions and built in accordance with all applicable safety standards. Click here for extensive product information on the KOKS MegaVac Cyclone Loader self-supporting vacuum. Click here to download the product flyer PDF.
For more information about the Megavac Cyclone Loader: Tel. +31(0)72 540 6699 / [email protected]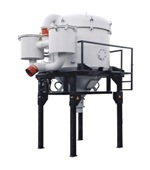 The KOKS MegaVac Cyclone Separator can be connected to the vacuum port of an air displacement truck/unit or vacuum/tank truck and is specially designed for suctioning, storing and bagging dry materials, such as powders, ceramics and asbestos fibres and other contaminated and/or hazardous substances. The unit is placed on a chassis, trailer or other type of transport system. Specially developed for working with hazardous and contaminated substances, the unit is available in PED or ADR (Ceoc) versions and built in accordance with all applicable safety standards. Click here for extensive product information on the  KOKS MegaVac Cyclone Separator. Click here to download the product flyer PDF.
For more information about the Megavac Cyclone Separator: Tel. +31(0)72 540 6699 / [email protected]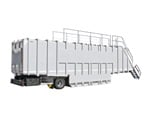 The KOKS Tainer is a mobile container that is used for (temporarily) storing liquids and hazardous substances such as oils, chemicals, acids, coolant, waste water and liquid waste. The KOKS Tainer offers maximum flexibility and greater on-site storage capacity. As a result, a vacuum truck can be deployed more efficiently. For the user, the KOKS Tainer is an innovative and cost-effective solution when a (temporary) storage facility for (hazardous) (fluid) substances is required. Click here for extensive product information on the KOKS Tainer. Click here to download the product flyer PDF.
For more information about the Tainer: Tel. +31(0)72 540 6699 / [email protected]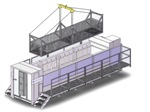 Our specialized, Ultrasonic Vessels simply provide a better clean in less time! Ultrasonic sound wave technology is by no means new - it is a tried and true process. KOKS has simply developed it on an industrial scale - one where we provide custom vessels to clean heat exchangers of enormous size and scale. Click here for extensive product information on the ultrasonic vessels. Click here to download the product flyer PDF.
For more information about the Ultrasonic Vessels: Tel. +31(0)72 540 6699 / [email protected]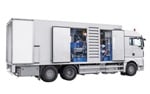 A KOKS High pressure cleaning unit, to be permanently installed in a container, a closed box truck or on a trailer, is suitable for (industrial) cleaning and jetting work, cutting of materials and roughening of surfaces. A KOKS high pressure unit is multifunctional and can be used with both cold and hot water. The user benefits from optimum results and significant time and cost savings. Click here for extensive product information on the KOKS high pressure cleaning unit. Click here to download the product flyer PDF.
For more information about the High pressure cleaning unit: Tel. +31(0)72 540 6699 / [email protected]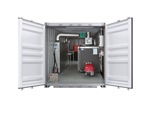 The KOKS hot water unit is a compact, diesel oil-fired installation for heating water to 95°, and is an ideal extension to a high pressure pump with an operating pressure of 15 to 1,000 bar. This combination is suitable for (industrial) cleaning activities. The KOKS hot water unit enables you to use hot water for cleaning. This speeds up the cleaning process, and improves the cleaning results. The user benefits from significant time and cost savings. Click here for extensive product information on the KOKS hot water unit.Click here to download the product flyer PDF.
For more information about the Hot water unit: Tel. +31(0)72 540 6699 / [email protected]