KOKS Mole Excavator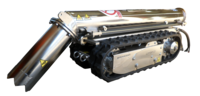 KOKS Mole Excavator is a totally controlled mini excavator, witch is very appropriate for mining and spaces operation.

The mini excavator KOKS Mole is a tracked excavator remote controlled from outside, equipped with a suction tube connected to a suction excavator.

KOKS Mole is equipped with a hydraulic control unit, coiler, and a remote controlled plant with video control.

This mini excavator is mostly used to suck settled material in pipelines with a diameter larger than 80 cm, as sewage pipelines, manifolds and tunnels.


Technical data:
* Hose of Ø150mm. to Ø250mm.
* Length 1500mm.
* Width 450mm.
* Height 500mm.
* 300 kilogram


Advantages:
* Safe operation in tight, restricted areas
* Labor Reduction
* Time-saving
* Money saving
* No human risks