KOKS Dozer Excavator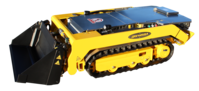 Koks Dozer is perfect for loading, moving and unloading heavy (up to 200kg) and dirty material. This Loader is extremely easy to use thanks to the hand remote control that gives a good
manoeuvrability and guarantees safety at every stages.

KOKS Dozer is a totally remote controlled Microexcavator created for working in mining and aluminium industries, operating in confined and hazardous spaces, cleaning under conveyors belt, pot lines and big tanks.

The peculiarity of this innovative multi-task skid steer loader is to approach high risk work environments operating at safe distance with a drastic reduce of work time.

KOKS Dozer works in operant underground mining plants and under conveyors in full service conditions with safe manoeuvres. In this way there is no need to interrupt production process with a remarkable cost savings and avoiding system malfunction and breakdown.

Mini Loader could work with two different configurations: classical for loading and carrying material, alternative for moving material by lifting blade base to the top.

KOKS Dozer could install different tools depending on specific customer needs and there is also a large colour range.

Advantages:
* Safe to operate by remote control.
* Time saving.
* Labour Reduction.

Technical data:

* Length 2230mm.
* Width 990mm.
* Minimum height 500mm.
* Maximum height 700mm.
* 950 kilograms.