KOKS Digger Excavator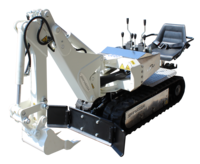 KOKS Digger shows its best skills working in confined spaces such as syphoned galleries and underground tunnels.


The mini excavator KOKS Digger is a tracked excavator operating by an external oil - pressure plant. This mini excavator is equipped with an arm for digging and a suction tube attached to the front blade for removal of the material collected by the arm.

This excavator is equipped with a hydraulic control unit and a 50cm oil - pressure tubing.

Advantages:
* Labour Reduction.
* Time saving.
* Safe operation in tight, hard to reach areas.
* Ideal for precision work.
Technical data:
* Length 2150mm.
* Width 500mm.
* Height 1100mm.
* 400 kilograms.